This shop has been compensated by Collective Bias, Inc. and its advertiser. All opinions are mine alone. This post is intended for an audience of adults age 18 and older. Visit www.cuevapor.com for product information and ordering. #CueTheNewYear #CueVapor #SatisfactionAtLast #CollectiveBias
Hey millennials, thanks for all you do, especially playing on your phones all the time. Top be honest, you're not going to gather much of this. Stick around anyway and have a good read. There's no one to talk to face to face anyway. You'll catch up when we get to the cool tech products of 2018. None of these items even existed in our Mobile, Alabama neighborhood.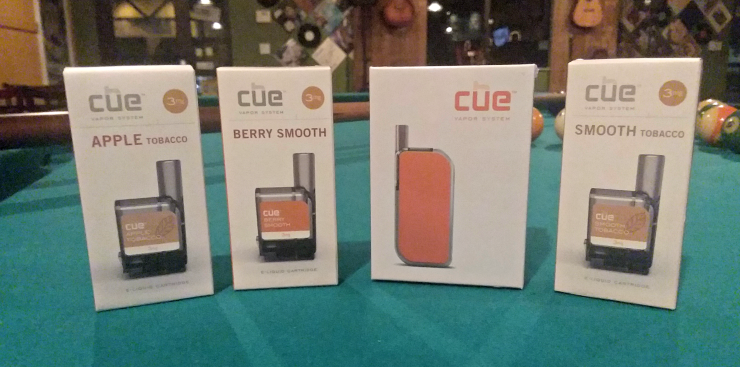 Click on the shoppable image above to order yours today.
No vapes, no cell phones, anti-gravity boots, no edible clothing, no vacation trips to the moon. That would all come later.
When we were tiny tots, the girls wore panty hose and listened to record players. The beehive was long past, but our moms still had mondo large hair styles. We just had house phones, which meant if someone was going to get in touch with us, they had to do it while you were home, inside. Other than that, they would just have to wait. There weren't any answering machines for a long time.
We still used manual typewriters and things got much easier when the first electric models emerged. We weren't yet called gamers but we played table tennis and soccer on our game systems until our eyes bulged.
Comic books came out once a month and our superhero figures stayed covered in mud. There was lots of Wiffle ball and kick-the-can to be played. We fought invisible soldiers from international armies.
At some point, every container made of glass was repackaged in plastic. Things that before had been shattered by the floor, now bounced harmlessly back into waiting hands. This would make life much easier for clumsy adolescents.
No one had a computer, but we'd seen them in early science fiction movies. Books were kept in libraries and there was no internet. There were no mommy bloggers and yes dear reader, no nailtravels.
The first space shuttle orbited the Earth and Pluto was still a planet. The Hubble Space Telescope had not yet showed us what lay beyond our own galaxy. There were no glowing, flashing hoops for girl hippies.
Things sure have come a long way. Cloud cities, floating surfboards and portable pencils are heralding a new dawn of technological advancement for humankind. Join us as we link arms and say thanks to the deity of science and progress. Get ready for the land of tomorrow where people will use these tools and toys to communicate more efficiently and solve the problems of the world in a spirit of tolerance, cooperation and love.
Tech Necessities for 2018:
Battery Charger:

As operating systems and devices use more power, there will always be a need for extra power supplies. Find a charger that can stand up so some wear and tear and one that will hold some real juice. A good charger can recharge a smart phone at least four times with one charge. When going camping for weeks at a time, it's best to carry a portable nuclear reactor at all times. You may just need to heat up your traveling sauna.

Drone:

How did we ever locate bait fish before the advent of drone technology? It surely won't be long until anglers simply send out their fishing drone, rigged with twenty pound line and a live thread fin, ready to scoop up a plump soap fish for brunch.

Smart Speakers:

Over 25 million voice activation systems were sold in 2017 and things aren't looking to change anytime soon. In our generation, smart speakers will be in most everyone's homes, with older folks holding out longer than anyone, due to the fact they're aren't going to be comfortable with the idea of a speaker recording every word they say. "Any people that give up freedom for security will lose both and deserve neither". -Ben Franklin

Smartphone:

How did we ever find each other at festivals and football games without portable phones? Welcome to the world of the two-way wrist radio. What businesses have been run off the map due to this recent innovation? Gone are the days of guitar tuners, GPS devices and even cameras. Thank goodness you'll have your phone ready to check out new nailtravels articles next time you're waiting at the dentist, sitting in a restaurant or attending a party.

Cue Vapor™ System:

As times continue to change, vaping grows in popularity. Whether you're trying to crush your New Year's goals with Cue Vapor System or simply trying to enjoy vaping while playing a game of pool, this is the vaping system that offers true  satisfaction comparable to smoking. Cue Vapor is a device so simply designed that anyone can take it out of the box, insert a cartridge, and vape! Check them out at

www.cuevapor.com

for product information and ordering.
Cue is Vaping. Made Simple.™ With choices in flavors, nicotine levels and device colors, for what you want, when you want. Elegant and high-performing, the Cue Vapor System includes a patented device and a pre-filled, disposable cartridge. You can also sign up for their subscription program and save 15% on cartridges! That's all you need for the simplest premium vapor experience. This really is more tech than vape. It's a revolutionary "click and vape" technology. A new way to get the satisfaction you desire, without the hassle older vape devices cause.The carefully crafted Cue system provides vape-shop performance without the complexity. Science is fun and maybe it's time to get back to better breath and teeth. That never hurts.
Visit their website, store locator and follow their social media sites on Twitter, Instagram, and Facebook. #CueTheNewYear #CueVapor #SatisfactionAtLast
Stay tuned to nailtravels as we fondly revisit the storied history of Club Fordham. "Always open, seldom boring." Part school and church, part sweat lodge and brothel. Remember, "to think like a fish you must drink like a fish." Herald back to a time when Club Fordham was caught within the very vortex of the literal party season. A veritable who's-who of Gulf Coast royalty could be found dipping their toes off the Panama Deck and other times, muted whispers of "Libertad" could be heard from the darkened, smoky corners of it's Bowery as members of the resistance gathered together in hushed tones.
NOT FOR SALE TO MINORS. California Proposition Warning statement: "WARNING: This product can expose you to chemicals including nicotine, which is known to the State of California to cause birth defects or other reproductive harm. For more information, go towww.P65.com. WARNING: This product contains nicotine. Nicotine is an addictive chemical. Cue™, the Cue Logo and Vaping. Made Simple.™ are trademarks of Digirettes, Inc.
Thanks y'all.